About Us
We are highly trained, renowned physicians and staff. All of our physicians are board-certified and known internationally for their expertise. We are often recognized as one of the best places in Boston to see a dermatologist.
Our team is credentialed as dermatology technicians and is meticulously trained to best care for our patients.
Emmy Graber, MD, MBA
Founder and President of The Dermatology Institute of Boston
Emmy M. Graber, MD, MBA is the Founder of The Dermatology Institute of Boston, a private practice in Boston, Massachusetts. With over ten years experience, Dr. Graber, a board-certified dermatologist, treats a wide range of dermatologic issues and specializes in acne and cosmetic dermatology. She is currently an Affiliate Clinical Instructor at Northeastern University and has extensive experience teaching students of all types.
Dr. Graber received her BS in Biology at The Pennsylvania State University and was a member of the Schreyer Honors College. She also completed her medical training at The Pennsylvania State University and graduated with membership in Alpha Omega Alpha Medical Honor Society. After an internship in Internal Medicine, she underwent Dermatology residency training at The Pennsylvania State University/Milton S. Hershey Medical Center. During this time she received the Intern Of The Year Award and was selected by her peers for a Humanism and Excellence In Teaching Award.
Following her residency training, Dr. Graber further specialized with fellowship training in Laser and Cosmetic Surgery at SkinCare Physicians of Chestnut Hill. She then practiced dermatology with that group for two years prior to working at Boston University. At Boston University, Dr. Graber was Director of the BU Cosmetic and Laser Center. She was also the associate residency program director and taught many medical students, resident physicians and international physicians in-training. In 2014 Dr. Graber completed her MBA at the University of Pennsylvania's esteemed Wharton School of Business.
Dr. Graber has academic interests in acne, acne scars and cosmetic dermatology. She has lectured and written extensively on these subjects in scientific journals and serves on the board of directors of the American Acne and Rosacea Society. Additionally, Dr. Graber is frequently cited in the media as an authority in dermatology. Dr. Graber is a regular contributor on national public radio (NPR) and her expert opinions can be seen in O Magazine, InStyle Magazine, and Good Housekeeping Magazine amongst other national media sources.
More about Dr. Graber: GraberMD.com

Freya Meyer, MD
Dermatologist
Freya Meyer, MD is a board-certified dermatologist with interests in all facets of the field, including general, pediatric, and cosmetic dermatology. Under the tutelage of internationally renowned dermatologists and scientists, Dr. Meyer received a premier medical education.
She graduated from the University of Florida with a bachelor in health science, and then attended medical school at the University of Miami. During medical school, she completed a specialized research fellowship in wound healing and regenerative medicine at a prestigious laboratory. As a result of her work there, she has published extensively in scientific journals. Dr. Meyer completed her dermatology residency in New York City at the State University of New York Downstate College of Medicine, where she was unanimously elected as Chief Resident in her final year of training. During her time in New York, Dr. Meyer volunteered her time and expertise to care for underserved patients in community health clinics.
Dr. Meyer treats patients of all ages and has special interests in: eczema, psoriasis, acne, skin cancer, and pediatric dermatology. She is a member of the American Academy of Dermatology. In addition to English, Dr. Meyer is fluent in Dutch. During her free time, she enjoys traveling, reading, running, and spending time with her family.
Ali Al-Haseni, MD
Dermatologist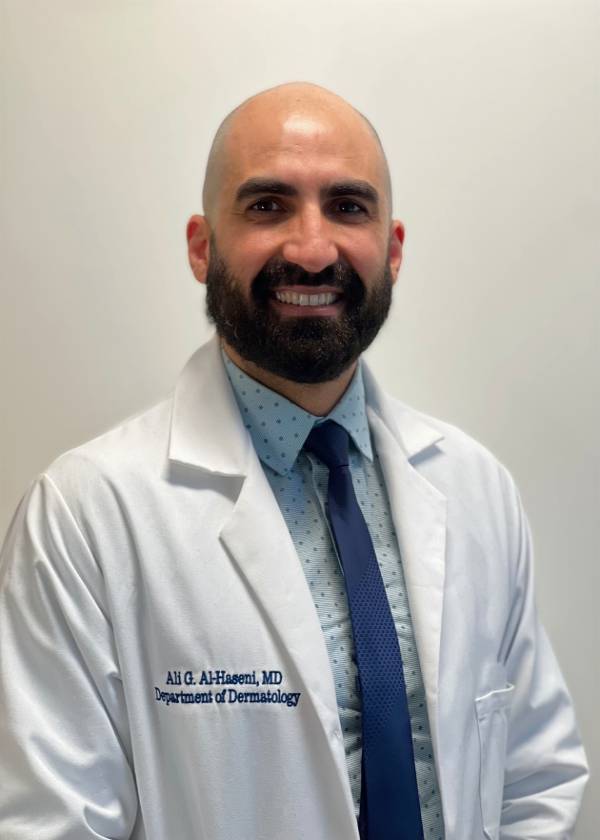 Ali Al-Haseni, MD is a board-certified dermatologist with additional specialty training in cutaneous oncology (i.e. skin cancer). He has expertise in skin cancer diagnosis and treatment and is skilled in general dermatology, surgical dermatology and cosmetic dermatology.
Dr. Al-Haseni graduated first in his class of 233 medical students at Al-Mustansiriyah School of Medicine, earning him a scholarship to Boston University (BU) School of Medicine. At BU, he obtained a Masters in Clinical Dermatology, and served as a chief of the international dermatology trainees. Subsequently, he started his dermatology residency at Boston Medical Center (BMC), with a first year internship in general surgery. During his training at BMC, he received many awards including the "Junior Resident Award" based upon nominations by Boston University medical students and the "Marie-France Demierre Award for Humanism in Medicine" in recognition of his compassion and dedication to patient care by the Department of Dermatology.
Dr. Al-Haseni treats patients of all ages and is a dermatologist with unique expert training in the medical and surgical treatment of various skin cancers, cutaneous lymphomas, acne, psoriasis, eczema, and procedural dermatology. He is a member of American Academy of Dermatology. Dr. Al-Haseni is fluent in Arabic and English. During his free time he enjoys reading, cooking, traveling, and playing tennis and soccer.
Sarah Alvis
Registered Nurse
Sarah Alvis, BSN RN is a registered nurse with 6 years of nursing experience. She graduated with her Bachelor of Science in nursing in 2016 and has worked in the NICU at Baylor Scott and White and Emergency Department at Boston Children's Hospital. She is Laser and IPL safety certified. In her free time, Sarah enjoys hiking, pilates, and taking her Boxer, Pike, on walks around Boston.
Kirsten Swenson
Executive Director
Kirsten joined the practice in 2019, and currently leads the team of medical assistants in addition to coordinating the clinical research. She is finishing up her MS in Medical Science at Boston University School of Medicine and aspires to advance her career as a Physician Assistant in the near future.
Samara Haines
Patient Care Coordinator
Samara has been working in the Medical Field for over 7 years, in both hospital and private practice settings. Her experience and willingness to learn is a great asset to The Dermatology Institute of Boston.
Jordan Borash
Acne Research Fellow/Medical Assistant
Jordan recently graduated from Saint James School of Medicine with her MD. She was involved in her school's Red Cross program. Jordan is working at the practice until she begins residency, both as an assistant and as our acne research fellow. When she is not working, she enjoys playing tennis and spending time with friends and family.
Hazel Salvador
Medical Assistant
Hazel graduated with a BS in Biology from UC Riverside with University Honors distinction. She will graduate with an MS in Medical Sciences from Boston University School of Medicine in Spring 2022, and pursue a career as a Medical and Public Health Professional. She has an extensive involvement in community-driven programs including free clinics, food banks, and initiatives to promote health literacy. She has a deep-rooted passion for mentorship and ensuring equitable access to health care resources.
Emily Goslin
Medical Assistant
Emily joined the practice in 2022. Emily has been working in dermatology since 2019 as an administrator and research assistant. She is currently taking prerequisites to apply to medical school.
Kevin Chen
Medical Assistant
Kevin graduated with a Bachelor of Science in Psychology with a concentration in Neuroscience from UMass Amherst and is currently finishing prerequisite courses at Northeastern. He hopes to pursue medical school in the future.
Our team is comprised of caring, kind Certified Dermatology Technicians who strive to provide compassionate, professional health care and customer service.
Our Credentials
Our Office