About Us
We are highly trained, renowned physicians and staff. All of our physicians are board-certified and known internationally for their expertise. We are often recognized as one of the best places in Boston to see a dermatologist.
Our team is credentialed as dermatology technicians and is meticulously trained to best care for our patients.
Emmy Graber, MD, MBA
Founder and President of The Dermatology Institute of Boston

Emmy M. Graber, MD, MBA is the Founder of The Dermatology Institute of Boston, a private practice in Boston, Massachusetts. With over ten years experience, Dr. Graber, a board-certified dermatologist, treats a wide range of dermatologic issues and specializes in acne and cosmetic dermatology. She is currently an Affiliate Clinical Instructor at Northeastern University and has extensive experience teaching students of all types.
Read Full Bio
More about Dr. Graber:
GraberMD.com
Freya Meyer, MD
Dermatologist
Freya Meyer, MD is a board-certified dermatologist with interests in all facets of the field, including general, pediatric, and cosmetic dermatology. Under the tutelage of internationally renowned dermatologists and scientists, Dr. Meyer received a premier medical education.
Read Full Bio
Ali Al-Haseni, MD
Dermatologist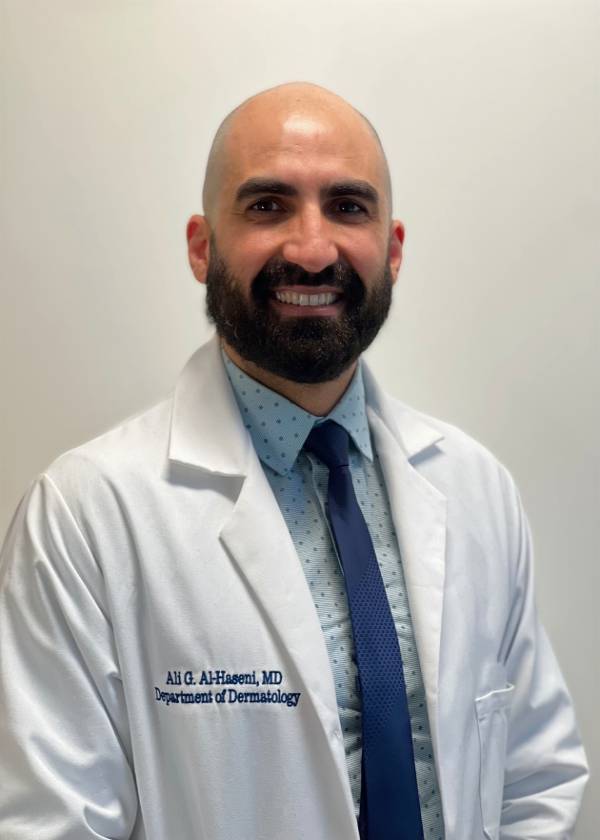 Ali Al-Haseni, MD is a board-certified dermatologist with additional specialty training in cutaneous oncology (i.e. skin cancer). He has expertise in skin cancer diagnosis and treatment and is skilled in general dermatology, surgical dermatology and cosmetic dermatology.
Read Full Bio
Sarah Alvis
Registered Nurse
Sarah Alvis, BSN RN is a registered nurse with 6 years of nursing experience. She graduated with her Bachelor of Science in nursing in 2016 and has worked in the NICU at Baylor Scott and White and Emergency Department at Boston Children's Hospital. She is Laser and IPL safety certified. In her free time, Sarah enjoys hiking, pilates, and taking her Boxer, Pike, on walks around Boston.
Courtney Gallagher
Registered Nurse
Courteney Gallagher, RN BSN is a registered nurse with 12 years of nursing experience. Courteney graduated from Simmons College Magna Cum Laude, gaining membership to Sigma Theta Tau international honor society for nurses and receiving the Carol Frazier Love Award. She has worked at various Boston Area hospitals such as MGH, MEEI and UMass as well as down in New Orleans. She has experience in Cardiothoracic/vascular Surgery, Pediatric ENT/Airway and Perioperative Nursing. She is Laser and IPL safety certified. When she isn't working, she is spending time with her husband, their four children Finnegan, Wyatt, Rowan & Penelope and their Golden Retriever, Milo.
Kevin Chen
Senior Clinical Coordinator
Kevin graduated with a Bachelor of Science in Psychology with a concentration in
Neuroscience from UMass
Amherst and is currently finishing prerequisite courses at Northeastern. He hopes to pursue his medical
career as a physician assistant.
Emily Goslin
Senior Admin Coordinator/Medical Assistant
Emily joined the Dermatology Institute of Boston in January 2021. She comes from a
dermatology practice
at a major academic medical center where she worked in an administrative and research capacity. Emily
has extensive knowledge regarding health insurance and healthcare administration which has been valuable
in her role leading the administrative staff at the Dermatology Institute as well as supporting the
practice as a medical assistant. Emily plans to apply to medical school in the near future. In her spare
time, she enjoys ballroom dance and skiing.
RoseWillow Hegfield
Medical Assistant
RoseWillow graduated from Lesley University in 2019 with a Bachelor of Science in Art
Therapy and
Cognitive Neuroscience. RoseWillow is currently enrolled in the post-baccalaureate pre-medical sciences
program at Northeastern University. She has experience in healthcare administration, insurance, and
medical billing. She plans to pursue a career as a physician assistant in the future. In her free time,
RoseWillow enjoys skating, crocheting, and sewing.
Monica Colmenares
Medical Assistant
Monica graduated from Colby College in 2019 with a Bachelor of Arts in computer
science and
environmental science. Monica is currently finishing her prerequisite courses at Northeastern University
as she hopes to pursue medical school in the future. In her free time, Monica enjoys baking, painting,
and knitting.
Lara Macintyre
Medical Assistant
Lara graduated with a dual degree in English and french from Boston University with
honors distinction.
She is enrolled in a post-bac pre-med program at Tufts University, and she hopes to attend medical
school in the future.
Taylor Gordon
Medical Assistant
Taylor joined the practice in 2022. In addition to working at DIB, she is currently
taking courses in
order to apply to graduate programs in hopes of doing cancer research in the future. When she is not
working or studying, she enjoys spending time with her dog, cooking, and catching up with friends.
Jacob Bouzaglou
Medical Assistant
Jacob graduated from the The Ohio State University with a Bachelor of Science in
2021, and has most
recently completed a post-baccalaureate program at Northeastern University. Jacob wishes to pursue
medical school and become a physician. In his free time, he likes to spend time with his dog, and play
basketball with friends.
Ana De Campos
Medical Assistant
Ana graduated from Case Western Reserve University in 2023 with a Bachelor of Arts in
Nutritional Biochemistry and Metabolism. In the future, Ana plans to apply to medical school and become
a physician. She enjoys cooking, playing volleyball, and exploring Boston in her free time.
Tim McGrath
Medical Assistant
Tim graduated from Boston College in 2022 with a Bachelor of Science degree in
Psychology. He is currently enrolled in the Northeastern University Post-Baccalaureate Pre-Medical
program and plans to pursue medical school. In his free time, he enjoys playing basketball, skiing, and
learning geography.
Morgan Leasure
Medical Assistant
Morgan graduated in May of 2023 with a BA in Cognitive Science with a concentration
in Neuroscience from the University of Virginia. Morgan hopes to pursue Physician Assistant school in
the future. In her free time, Morgan enjoys skiing, hiking, baking, and spending time with friends.
Veronica Aguilera
Patient Care Coordinator
Veronica earned her BS in Biology and BA in Natural and Applied Sciences from the
Honors College at
Florida International University in 2020. She is currently a master's student pursuing a degree in
Medical Science at the Boston University School of Medicine. She currently serves as a
spiritual/academic mentor at Boston University for undergraduate students and is actively involved in
research in the field of Oncology at Brigham Women's Hospital. In her free time, she enjoys traveling,
trying new coffee shops, and exploring the outdoors.
Lydia Gomez
Patient Care Coordinator
Lydia is a second-year undergraduate student at Northeastern University. Lydia is a
chemistry major with
a minor in law and public policy on a pre-med track. In her free time, she enjoys Latin dancing and
cooking.
Gregory Brinton
Patient Care Coordinator
Gregory came to DIB after serving 24 years in the military, 20 of those years being
medical experience
in both the Army and Navy. In addition to his military experience, he was both an EMT-I and Paramedic in
North Carolina at Cumberland County EMS and Fort Bragg EMS. Gregory served for 2 years in the Peace
Corps doing volunteer work in healthcare in Togo West Africa and has plans to pursue medical school in
the near future.
Charles Zimmet
Patient Care Coordinator- Intern
Charles is a rising third-year undergraduate Health Sciences student on the
pre-medical track at Northeastern University. With a passion for skincare and a love for health
sciences, he aspires to become a dermatologist to help people feel confident in their skin. Beyond his
academic pursuits, he enjoys cooking, playing tennis, and exploring the art of origami.
Our team is comprised of caring, kind Certified Dermatology Technicians who strive to provide compassionate, professional health care and customer service.
Our Credentials
Our Office
Frequently Asked Dermatology Questions
What does it mean to be a board-certified dermatologist?
A board-certified dermatologist is a highly skilled doctor (M.D.) whose expertise includes diagnosing and treating ailments on the skin, nails, and hair. They have years of experience in the field of dermatology, and they are essential to the services that dermatology clinics provide.
They can also practice their profession in hospitals and other related healthcare facilities. For a dermatologist to become board certified, they have to meet a substantial amount of eligibility requirements in addition to passing the necessary exams. By the time you've sat in a board-certified dermatologist's office, they have already spent:
4 years of undergraduate education getting a Bachelor's degree
4 years in medical school earning their M.D. or D.O. degree
4 years in residency training, where they specialize in the field of dermatology
Passed medical school licensing exams and board certification exams
Some dermatologists complete additional years of training after residency to subspecialize in surgical dermatology (medical dermatology), cosmetic dermatology, or pediatric dermatology. However, all of them are well-versed in a baseline of treatments to handle many common disorders regarding hair, skin, and nails. A board-certified dermatologist is a dedicated individual with significant knowledge and passion for medical dermatology.
Are there different types of dermatologists?
The field of dermatology comes with a long range of available treatments, and some dermatologists also specialize in a specific category of dermatology. Many choose to continue their education after residency to broaden their skillset and provide more value to their patients. This continuing education is called a fellowship, of which there are four primary sub-categories or "branches" that focus on particular disorders and treatment solutions. These include surgical dermatology (namely, Mohs surgery), cosmetic dermatology, dermatopathology, and pediatric dermatology. It takes a minimum of 12 years to become a general dermatologist, and more if one of these fellowships is done.
Is it important to see a dermatologist?
It's inevitable that any dermatologist would advocate for at least a yearly visit, but the importance of these visits usually goes unnoticed by many people. The skin is one of the most sensitive organs of the human body, and it plays an integral role in our overall health. Moreover, a long list of disorders and physical changes happen with the skin over time, and regular checkups with a dermatologist will let you know if anything sticks out from the norm.
The skin's condition can also be very telling for anything that might be happening inside the body. It isn't uncommon for an internal illness to show signs of illness through the appearance of the skin. Although many individuals may not be able to come to this conclusion themselves, a dermatologist can pick up on these changes instantly.
Additionally, visiting a dermatologist can give you the power to be proactive about an ailment or disorder that might be slowly developing internally or externally. If a dermatologist finds something odd about the skin, they know exactly which steps need to be taken next to ensure the patient's well-being in the long run.
How much is a dermatologist visit?
This is guaranteed to vary based on the expertise, location, and method of treatment, but there's a general range that you can expect with most dermatology visits. Within the U.S., it's common for a dermatologist visit to cost anywhere between $100 to $300. Most types of visits will be covered by insurance. Your dermatologist will be transparent about the costs you can expect and will let you know what services are covered by insurance and which are not.
If you happen to need specialized, ongoing treatments, you can expect these costs to rise, and some will be more expensive than others. Nevertheless, you'll always have the ability to discuss your options with your dermatologist so you can take the most cost-effective approach.
Initial visits usually entail a consultation and a general checkup of your current condition. If anything needs to be explored further, your dermatologist will suggest various treatments that cater to your specific needs.
When should you start seeing a dermatologist?
It's recommended that those over the age of 18 should start looking into seeing a dermatologist annually for skin cancer screenings, especially if you have a strong family history of skin cancer. This is a good starting point for those who may not be suffering from any specific disorders. Regardless of age, if you're noticing adverse effects on your skin, hair, or nails, it never hurts to consult a dermatologist about it.
Many different disorders in the field of dermatology can quietly develop over time without you noticing. When you go to a dermatology checkup, their expertise will be able to pick up on any visible abnormalities. In extreme cases, some disorders can be life-threatening, and the health of your skin, hair, and nails shouldn't be taken lightly.
You also want to work with a skilled dermatologist you can rely on, and if you're looking for a dermatologist in Boston, we offer multi-faceted solutions that ensure your health stays on track. Whether you're currently dealing with a particular disorder or haven't seen a dermatologist in quite some time, don't wait to reach out to us and schedule an appointment.
Are dermatologist visits covered by insurance?
Most medical dermatology visits and procedures are covered by insurance. This may vary depending on the exact terms of your insurance plan, but you can expect insurance assistance when it comes to medical dermatology visits.
However, it's common for insurance companies to avoid providing any assistance when it comes to cosmetic dermatology. This is because the treatments are cosmetic in nature and don't focus on anything medically related. You can expect to pay for most cosmetic dermatology procedures out of pocket.