About Us
We are highly trained, renowned physicians and staff. All of our physicians are board-certified and known internationally for their expertise. We are often recognized as one of the best places in Boston to see a dermatologist.
Our team is credentialed as dermatology technicians and is meticulously trained to best care for our patients.
Emmy Graber, MD, MBA
Founder and President of The Dermatology Institute of Boston
Emmy M. Graber, MD, MBA is the Founder of The Dermatology Institute of Boston, a private practice in Boston, Massachusetts. With over ten years experience, Dr. Graber, a board-certified dermatologist, treats a wide range of dermatologic issues and specializes in acne and cosmetic dermatology. She is currently an Affiliate Clinical Instructor at Northeastern University and has extensive experience teaching students of all types. Read more
More about Dr. Graber: GraberMD.com

Freya Meyer, MD
Dermatologist
Freya Meyer, MD is a board-certified dermatologist with interests in all facets of the field, including general, pediatric, and cosmetic dermatology. Under the tutelage of internationally renowned dermatologists and scientists, Dr. Meyer received a premier medical education.Read more
Ali Al-Haseni, MD
Dermatologist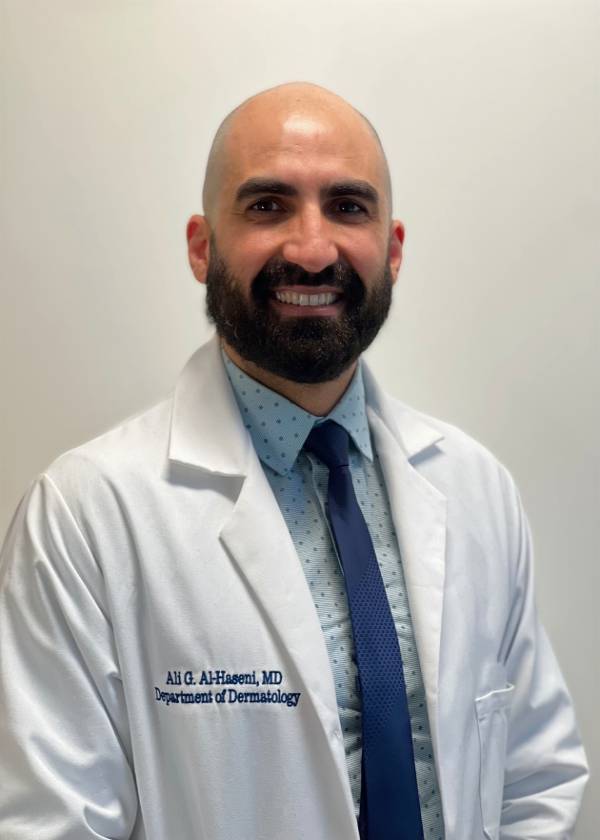 Ali Al-Haseni, MD is a board-certified dermatologist with additional specialty training in cutaneous oncology (i.e. skin cancer). He has expertise in skin cancer diagnosis and treatment and is skilled in general dermatology, surgical dermatology and cosmetic dermatology.Read more
Sarah Alvis
Registered Nurse
Sarah Alvis, BSN RN is a registered nurse with 6 years of nursing experience. She graduated with her Bachelor of Science in nursing in 2016 and has worked in the NICU at Baylor Scott and White and Emergency Department at Boston Children's Hospital. She is Laser and IPL safety certified. In her free time, Sarah enjoys hiking, pilates, and taking her Boxer, Pike, on walks around Boston.
Karen Kenyon
Practice Manager
Karen Kenyon, has been working in Dermatology in the Boston area over 25 years. With experience in all areas of a medical office from Patient Care Coordinator, Medical Assistant Coordinator, Billing Manager and Practice Manager. Karen has worked in both Private Practice and Hospital Based Practice as well.
From her background and experience with all aspects of a Dermatology Practice as well has her five years' experience as the Accounts Payable Manager at Principal Healthcare of GA, Karen brings a multitude of experience that helps the physicians, staff and patients at The Dermatology Institute of Boston have a positive experience.
Samara Haines
Patient Care Coordinator
Samara has been working in the Medical Field for over 7 years, in both hospital and private practice settings. Her experience and willingness to learn is a great asset to The Dermatology Institute of Boston.
Kirsten Swenson
Executive Director
Kirsten joined the practice in 2019, and currently leads the team of medical assistants in addition to coordinating the clinical research. She is finishing up her MS in Medical Science at Boston University School of Medicine and aspires to advance her career as a Physician Assistant in the near future.
Jordan Borash
Acne Research Fellow/Medical Assistant
Jordan recently graduated from Saint James School of Medicine with her MD. She was involved in her school's Red Cross program. Jordan is working at the practice until she begins residency, both as an assistant and as our acne research fellow. When she is not working, she enjoys playing tennis and spending time with friends and family.
Emily Goslin
Medical Assistant
Emily joined the practice in 2022. Emily has been working in dermatology since 2019 as an administrator and research assistant. She is currently taking prerequisites to apply to medical school.
Hazel Salvador
Medical Assistant
Hazel graduated with a BS in Biology from UC Riverside with University Honors distinction. She will graduate with an MS in Medical Sciences from Boston University School of Medicine in Spring 2022, and pursue a career as a Medical and Public Health Professional. She has an extensive involvement in community-driven programs including free clinics, food banks, and initiatives to promote health literacy. She has a deep-rooted passion for mentorship and ensuring equitable access to health care resources.
Kevin Chen
Medical Assistant
Kevin graduated with a Bachelor of Science in Psychology with a concentration in Neuroscience from UMass Amherst and is currently finishing prerequisite courses at Northeastern. He hopes to pursue medical school in the future.
Our team is comprised of caring, kind Certified Dermatology Technicians who strive to provide compassionate, professional health care and customer service.
Our Credentials
Our Office