Vitamin C in Skin Care: The Benefits and How to Incorporate It Into Your Routine
Vitamin C is a potent ingredient that can help you keep your skin looking soft, smooth, and radiant. Not only can vitamin C protect your skin from the damaging effects of UV light and free radical damage, but studies suggest that it can also help reduce the appearance of wrinkles, fade discoloration, soothe inflammation, improve skin tone, and even boost collagen production. Regular use of topical vitamin C can give you a healthy-looking complexion and may even enhance your results from other skincare products. If you're looking for a way to give your appearance a natural boost and protect yourself from sun damage at the same time, consider adding a vitamin C product to your routine.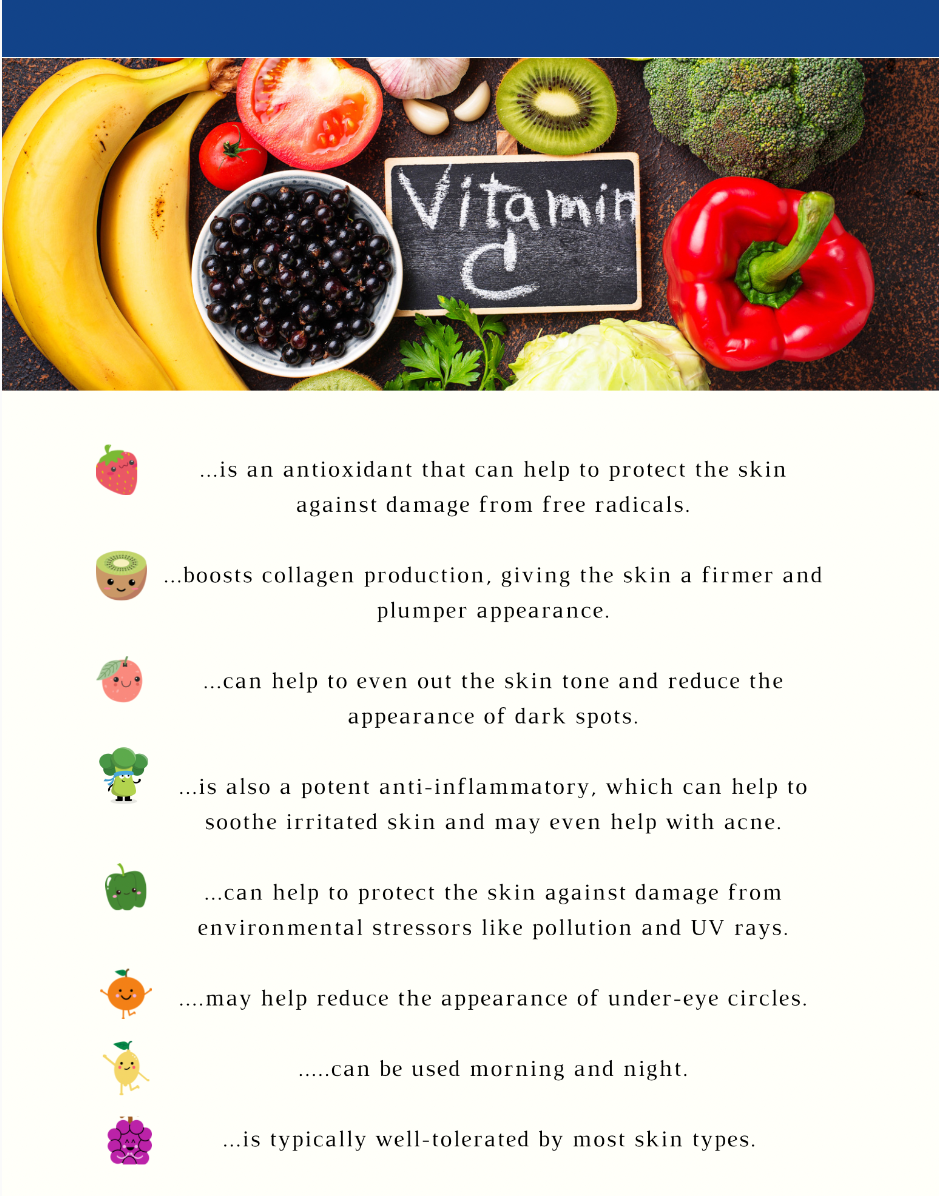 Types of Vitamin C
There are a few types of vitamin C that you might see on skincare ingredient labels. L-ascorbic acid is the only "active" form of vitamin C and one of the most widely studied. Active, meaning it is easily absorbed into the skin. All other alternatives are "non-active" and need to be converted to l-ascorbic once in the skin, which can decrease their efficacy.
L-ascorbic acid or ascorbic acid (LAA) is water-soluble and one of the most popular vitamin C. LAA is the most studied and effective vitamin C ingredient. However, ascorbic acid is one of the least stable forms of vitamin C. Look for stabilizers like vitamin E or ferulic acid in the ingredient list. Do a patch test before using L-ascorbic acid, as it can irritate sensitive skin.
Tetrahexyldecyl ascorbate is an oil-soluble, stearic acid-derived form of vitamin C. It is often used in skincare products to help protect the skin from free radicals and boost its natural luminosity. Unlike ascorbic acid, tetrahexyldecyl ascorbate is more stable.
Magnesium Ascorbyl Phosphate is a more stable form of water-soluble vitamin C that's often used in skin care products. It has many of the same benefits that vitamin C provides; in addition, MAP is an excellent alternative for those with sensitive skin or who are easily irritated by l-ascorbic acid.
Sodium Ascorbyl Phosphate is a water-soluble vitamin C derivative effective at skin brightening and reducing inflammation. It's very stable, so it won't degrade when exposed to air or light like other forms of vitamin C.
How to Incorporate Vitamin C Into Your Skin Care Routine
When incorporating vitamin C into your skincare routine, it is important to know the skin care products you're already using. If you have skin that easily becomes irritated, look for a serum or cream that contains one of the vitamin C derivatives mentioned. The derivatives can be less irritating than an LAA serum or cream.
Patch Test! Apply a small amount of the serum or cream on your skin and wait 24 hours to see if there's any skin irritation. If all is well, you can begin using the product as recommended.
Vitamin C-based products are suitable for both morning and night use. Apply it to a clean face before moisturizer and SPF if using it in the morning. Vitamin C is known to degrade when exposed to UV light, so it's important to protect your skin with SPF.
Vitamin C is a skincare powerhouse ingredient that can be incorporated into many different skincare routines and products. Vitamin C pairs well with other skincare ingredients like antioxidants, retinol, and hyaluronic acid. These combinations can help to provide added skin protection, reduce discoloration, and boost collagen production.
If you have questions about incorporating vitamin C into your routine, The Dermatology Institute of Boston team can help!
What To Look for in a Vitamin C Serum?
First, choosing the suitable vitamin C for your skin type is important. For sensitive skin, look for serums containing stabilized forms like magnesium ascorbyl phosphate or sodium ascorbyl phosphate. It's also important to look for skin care products with a strength of 10% to 20% and a pH lower than 3.5 – which will help maximize their effectiveness. Additionally, look for skin care products with added antioxidants and skin-brightening ingredients like retinol and ferulic acid. These can help enhance vitamin C's efficacy in your skincare routine.
Look for products that are packaged in dark bottles and airtight packaging. As previously noted, vitamin C is highly unstable and needs protection from light, air, and moisture exposure.
Watch for the oxidization of your serum. When exposed, signs of vitamin C oxidization can be easily detected — a dark brown or orange shade, clumpy textures, and an unpleasant smell. If you ever come across these signs, it is highly recommended that you throw away the product.
Finally, look for vitamin C formulas in moisturizers or serums. Cleansers, essences, or toners do not stay on your skin long enough to be effective.
Final Thoughts
Now that you understand a little bit more about vitamin C and how it can benefit your skin, you might wonder where to start. The type of product you use and the vitamin C concentration are important. We recommend talking to a board-certified dermatologist to discuss incorporating a vitamin C serum into your routine. They can help you determine which product will work best for your skin care needs. Schedule an appointment today and get started on achieving brighter, healthier skin!